We really don't do the Easter "thing" here with the bunnies and chocolates and eggs and stuff. I may change my mind, if the kids tell me they want to do that, but I'm certainly not introducing it to them. As a child, it always seemed strangely incongruous to celebrate the death of Jesus--an important man with a great and peaceful message, who was nailed to a cross and tortured until he died--with fluffy bunnies delivering candy and toys to children everywhere. I liked the candy, sure, but it seemed really weird and full of mixed messages. What I *did* do this Easter was talk about the significance of the holiday with my oldest son, took pictures of a few Peeps in a pan, and then waited for the after-Easter sales on egg decorating kits.
Why, you might ask?
Why so I could do this, of course!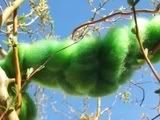 This lovely 1/2oz braid of Corriedale roving is dyed with green Easter Egg dye--those tiny little pellets from the egg kits that seem to be so popular around this time of year. By waiting until after Easter, I was able to scoop up 6 kits (with 6 or more pellets per kit) for about $0.50 each. They make lovely stable, bright colors and are kid-safe--unlike some of the more "professional" dyes I could use.
I did a second one in a lovely vibrant hot purple, and currently have a third in progress (only 56 grams)--it's a bright electric blue. For kicks, I also dyed a fourth portion (1/2oz) with Ice Blue Raspberry KoolAid--it's a pretty light aqua that will blend nicely with the more vivacious blue for a felted project I have in mind. I'll take pictures of those once they are dry and braided.
My method: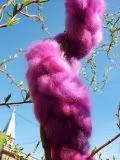 Take a 1.5 L mason jar. Add one dye tablet and crush with spoon. Fill halfway with very warm water and mix until all the dye powder has dissolved. Carefully bundle the roving (1/2oz per jar) and place it into the jar. Add warm water to cover the roving and squish the roving as close to the bottom of the jar as possible.
Place jar in microwave and nuke it for 3 minutes. Remove and carefully push bubbles from roving with a spatula, and squish roving back into bottom of the jar. Be sure to watch the roving carefully during this process--boiling is veryverybad! Nuke it for 2 more minutes--removing immediately if it appears to be close to boiling.
Repeat the above procedure--squishing out bubbles and pushing wool to bottom. Nuke for 1 more minute. Remove from microwave and add 1 tbsp of white vinegar. Squish out bubbles and push roving to the bottom. Leave roving in jar until liquid has cooled down and all the dye has been absorbed. When it is done, the liquid with the roving will look clear--I promise!
After the water clears, carefully drain the jar, trying to avoid agitating the roving (this would cause felting). Gently remove the roving from the jar and squeeze the remaining water from the fibre. Drape on a plastic clothes hanger and hang over a bathtub, towel, or container to catch any drips while it dries.
I've a couple projects in mind for these rovings--spinning them up first, of course, but a few funky felted bags and such could well be on the way, just in time for summer!
For more detailed pictures (as they become available), you can follow along in my "Anatomy of a Project" photo album, found here:
http://www.facebook.com/album.php?aid=5484&l=8e005&id=530875539